PUZZLE is a companion product to LM4, LM Re:actor, LM Re:actor Lite and LM Ambient.
With PUZZLE you can interconnect regular binary sensors with 1-wire fieldbus or use the device as digital output to control relays/contactors. 
By pairing the PUZZLE with LogicMachine, you can finish the installation in very cost-effective way.
2 programmable binary inputs or digital outputs

Up to 64 PUZZLE can be connected to one 1-wire port of LogicMachine and all objects can be then managed from any of KNX, Modbus, BACnet etc. devices

Perfect solution to integrate cost-effective reed contacts, contactors, water leakage sensors, movement detectors, proximity sensors into smart house installation

Compact, stackable design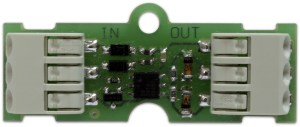 Please see more information here:
http://openrb.com/1-wire-2-universal-io/